AnyMP4 Blu-ray Creator, burn Blu-ray disc with any video file. Convert video formats like MKV, M2TS, MTS, TS, MP4, MXF, AVI, WMV, FLV, M4V, MOV, M4V and more to Blu-ray. Thus you can backup your favorite video files on computer as the Blu-ray format. AnyMP4 Blu-ray Creator is one of them, an intuitive program that enables you to convert your videos, perform several basic editing operations and create personalized menus before burning content to.
For anyone new to Blu-Ray... The main advantage of video Blu-Ray discs is that the ones you buy may have a higher bitrate, & thus quality, than any other source you can get your hands on. Importantly, the cheaper blank discs that seem to dominate the market may have a Very short life span -- I've had them go bad sitting on the shelf before they were burned, & reports of read failures after a few months or a year are somewhat common. And, the blanks you buy generally have a softer, film type coating rather than a layer of hard plastic like a DVD, so more care is needed in handling & storage.
It is not as common nowadays since Blu-Ray burners & discs have dropped in price [burners by 50%+ -- discs from $50 to <$1], but DVD blanks are included in the Blu-Ray video spec. You can use 480i or p [same as DVDs], 720p, 1440 x 1080 [anamorphic], & the usual 1080p. You shouldn't exceed the DVD's max bitrate of 9-9.5, but using a good encoder & Blu-Ray spec AVC or mpg2 you can get very nice results on a dual layer DVD. And yes, mpg2 is included in the spec, & while less efficient than AVC at storage, it's also much less processing intensive.
Stand-alone Blu-Ray players can be finicky in the discs they'll play -- older players seem worse than newer. The brand of disc can matter, the burner can matter, the encoding settings used for the video can matter, & the layout of the disc can matter -- regarding the latter, the discs you burn may be recognized as AVCHD rather than Blu-Ray, depending on the authoring software, & that can trigger different playback in the player. For mpg2 I can only suggest encoders that come with a specific Blu-Ray template. The same goes for AVC, though if you use x264 there's a guide here -- www.x264bluray.com .
There's not enough time this morning to really evaluate AnyMP4 Blu-ray Creator -- I'd have to encode the video, have it create the layout, burn it, watch the movie on a couple of players etc., & then that would not really tell me how compatible it was, because I chose my players for high compatibility ratings. Your mileage may vary. That's Not to say don't try it out -- free Blu-Ray authoring apps are a bit rare... the most used AFAIK is multiAVCHD, & that's far from the easiest app to figure out.
I will make a final suggestion... Do NOT upscale your video in software -- the player &/or HDTV should do that just fine, in fact better than software.

Save Cancel

Anymp4 Blu-ray Creator 1.0.8 (full + Patch)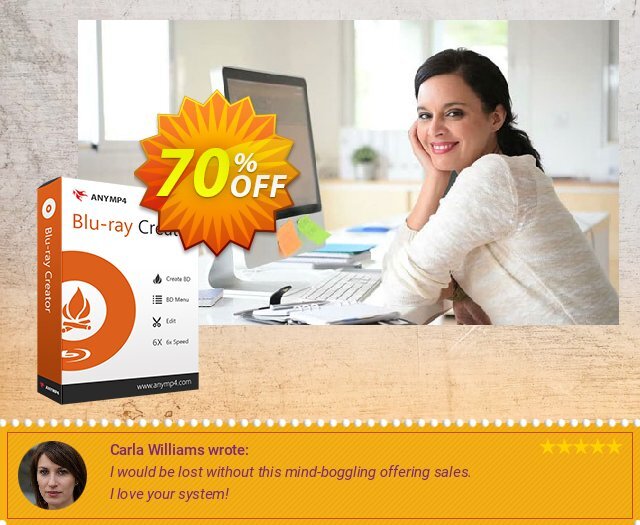 Anymp4 Blu Ray Copy Platinum
mike
–
4 years ago
–
¿Te ha parecido útil este comentario?

sino

(+20)